LUchtvaart
Nationaal
Antwerpen
Kempen

---
MARKERING OP BAND EN VELG

Wat is het doel van het aanbrengen van een markering op band en velg ?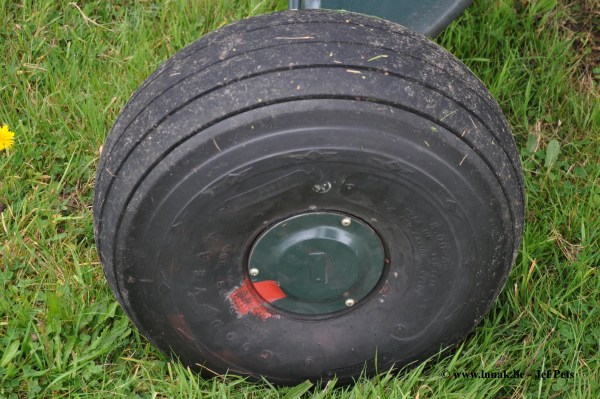 Hierboven ziet u een dergelijke markering op het hoofdlandingsgestel van een Piper Cub.

Wanneer een vliegtuig opstijgt, beginnen de wielen van nul te draaien tot aan de bereikte snelheid die nodig is voor het opstijgen. Vergelijkbaar met een auto die vertrekt.

Bij de landing echter zijn de wielen van een vliegtuig quasi in stilstand en raken ze de grond aan de landingssnelheid van het vliegtuig. Vandaar dat je bij landende toestellen een blauwe rook kan waarnemen vanaf het moment dat de rubber van de banden de landingsbaan raken. Al naar gelang de windrichting ruik je achteraf zelfs de geur van verbrande rubber.
De vergelijking met de auto van hiervoor gaat niet meer op, bij de auto blijven de wielen aan de grond en aan de snelheid die de wagen rijdt.

Door de plotse snelheidsverandering waarbij het gewicht van het vliegtuig door de banden moet gedragen worden, kan het zijn dat de band verschuift ten opzichte van de velg. Dit kan resulteren in een platte band waarbij het ventiel gescheurd raakt en de band onmiddellijk of over een langere periode lek komt te staan.

De piloot kan dank zij de markering visueel controleren of band en velg op de juiste plaats zitten. Met andere woorden, als de rode stip op de velg overeenkomt met deze op de band, is alles in orde. Als de rode stip op de velg niet meer overeenkomt met die op de band, is de band ten opzichte van de velg verschoven en kunnen er zich problemen voordoen.

Om banden te sparen zal je bijvoorbeeld de Stampe & Vertongen SV4's meestal zien landen op de graspiste. Hierdoor wordt slijtage van het rubber aanzienlijk verminderd.